Fishing Papagayo for Yellowfin Tuna
thunnus albacores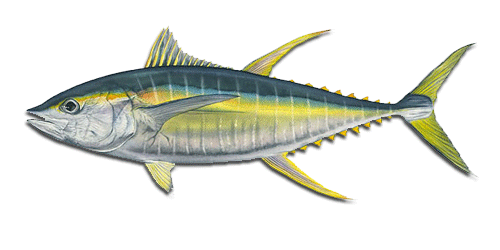 The Papagayo Fishing Season for the nice Yellowfin Tuna are from June through September. Characteristics that distinguish the Yellowfin Tuna from other Tuna are: elongated anal and dorsal fins on large fish, moderately smooth and nonstriated ventral surface of the liver. The length of the dorsal and anal fins can vary from fish to fish.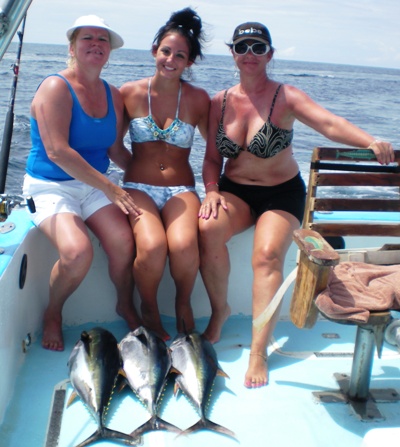 Method: Generally caught 10-30 miles out. Yellowfin will bite on the same lures and ballyhoo rigs that are used to catch Sailfish. Tuna are usually found feeding with Dolphins especially Spinner Dolphins. If you can find feeding dolphins you can target tuna with cedar plugs and deeper running trolling lures like the green machine. Live bait is best for the big Tuna…get in front of the feeding pack and drop your live bait down and hold on.

Feeding Habits: Yellowfin feed on fishes and invertebrates associated with sargassum. This will occur in at the water's surface in the open ocean. Foods include larval crabs and shrimps, squids, paper nautilus, flyingfish, triggerfish, and jacks.

We release for tomorrow !