Fishing for Mahi-Mahi in Guanacaste Costa Rica
copyphaena hippurus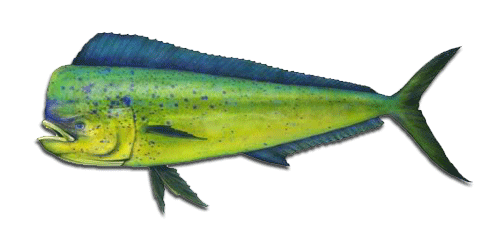 Flamingo Costa Rica is located in Papagayo Gulf, a place great for Mahi-mahi, this specie is good through our rainy season which goes from May till mid November. The Dorado fishing is above average year round and the rainy months are the best time to catch the 5-15 pounders that congregate on the weed and trash lines closer inshore and in the gulf. The rest of the year, the bigger Mahi-mahi are generally further offshore in the "blue water" with the bait and the Sailfish, 20 to 50 pound Dorado are very common when fishing for Sailfish and 60 and 70 pound Mahi-mahi are caught every month. We all believe there is a world record out there… a 70 pound Dorado is only a month or two away from being a 90 pounder.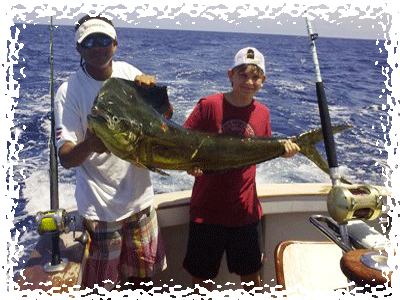 Description: The Dorado is perhaps the most beautifully colored of all saltwater fishes. Unfortunately, the bright turquoise, green and yellow patterns fade almost immediately upon death. The male's profile will have a very tall, blunt head. Females will be much more streamlined.
Method: Generally caught 3-30 miles out while trolling lures and ballyhoo with circle hooks. During the rainy season troll the trash/current lines with lures and ballyhoo and cast light tackle jigs and small lures under logs, nets, and the larger items floating in the trash/current lines. During the sunny season lots of big Dorado are caught while fishing for Sailfish…usually with a ballyhoo and a circle hook. Live bait and fly will also work for Dorado.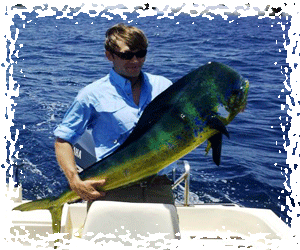 Feeding Habits: Many of the foods eaten by Dolphin such as small fishes, crabs, and shrimps are found in floating mats of sargassum. Feeding characteristics of Dolphin vary greatly. At times the Dolphin is a voracious predator that pursues and captures fast swimming fish such as flyingfish, mackerels and juvenile Dolphin. On other occasions it seems content merely to nibble on small crustaceans and insects that float on the surface in the weedlines. In addition to foods, a variety of items discarded at sea by man are consumed by Dolphin. Small light bulbs, pieces of plastic wrappers, rope, and string have been removed from dolphin stomachs.

We release for tomorrow!