Enjoy the report and read about the fishing places in the North Pacific Coast of Costa Rica.
Papagayo Fishing out of Riu Guanacaste Resort
Mr. Steve, staying at Riu Guanacaste Hotel in Matapalo Beach, booked a Guanacaste Fishing Charter, Arnaldo captain of Mono boat took him and his fishing partner south of Matapalo Beach towards Catalinas Islands where they caught 1 sailfish, later during the day they moved inshore and caught and released 2 roosterfish. They had great weather. Nov. 09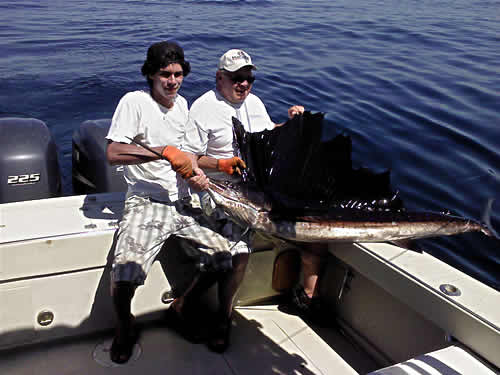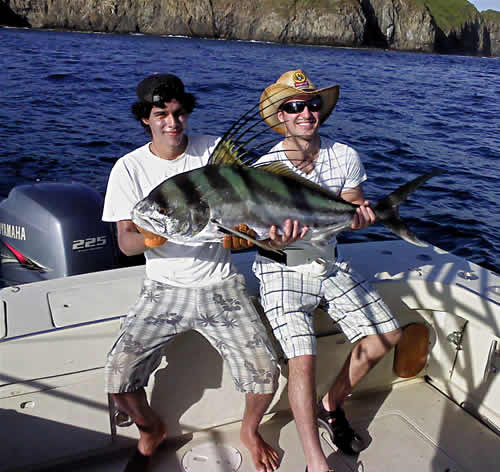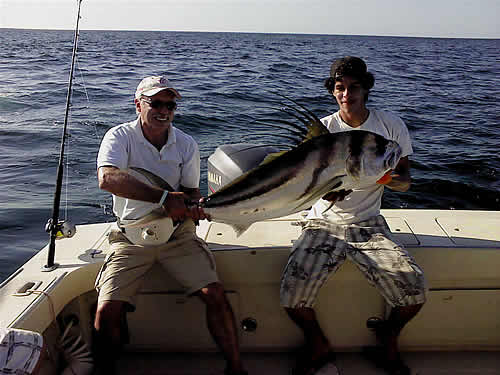 Fishing for Roosterfish in Guanacaste
Playas del Coco was our departure port for La Chuila G boat, who took 2 anglers out fishing, north of the Papagayo Gulf in a full Deep Sea Fishing day, they caught by the end of the day 5 roosterfish and one barracuda. Oct. 28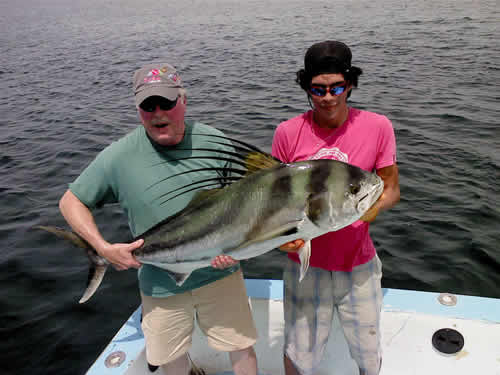 Roosterfish Charter from Occidental Grand Papagayo
Mr. Rick and his son booked the Bahamas vessel for a full fishing day, Jose captain took them south of Papagayo Gulf, towards Catalinas Islands, they caught 2 roosterfish one of about 70 pounds and another of 50. October. 19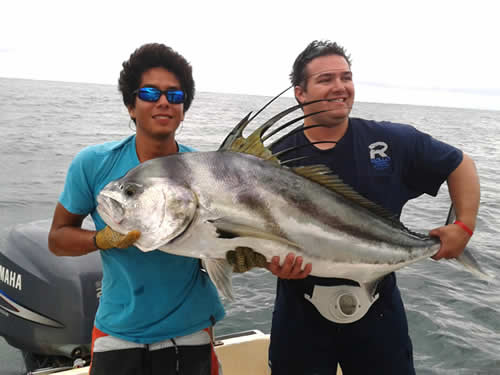 Guanacaste SportFishing Boats out Grand Papagayo Resort
Mr. Gregory's yig fishing adventure started on September 22, he and his wife staying at Occidental Grand Papagayo Resort in Papagayo Gulf booked the first Guanacaste Fishing Charter for Sept 22nd, Jose, Captain of Bahamas picked them up at 7:30am they when out in a full Fishing Charter, this first day was not good, they just caught 1 black jack. On September 24th they when out again in a half day Papagayo Fishing Charter, this time they caught 2 roosterfish ans black jacks. And on the third and last fishing day Mr. Bill desides to go in a full inshore fishing day, they had a blast... catching 8 yellowfin tuna, and 20 black jacks. Without questions... a great Papagayo Fishing Adventure!! Sept. 22-24-25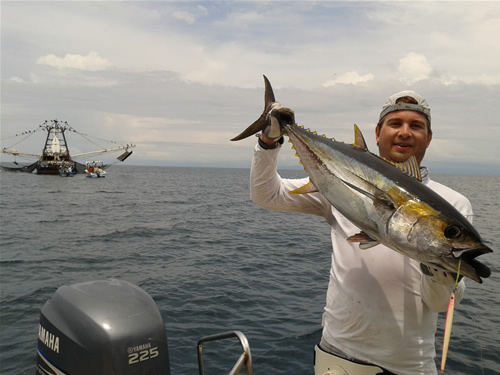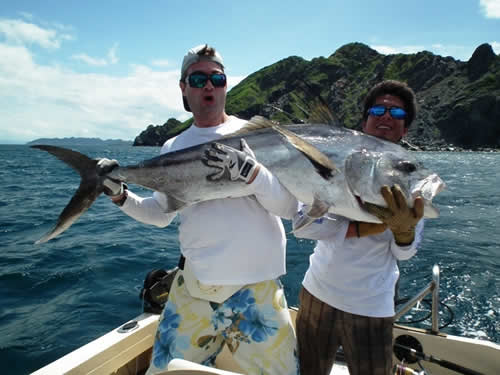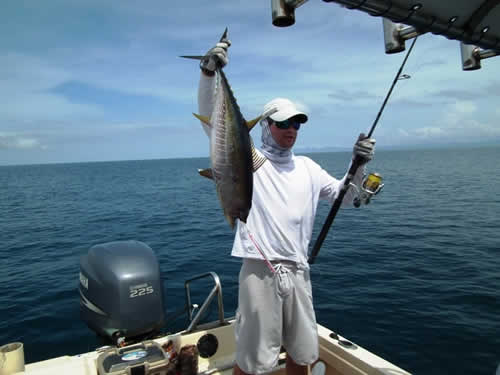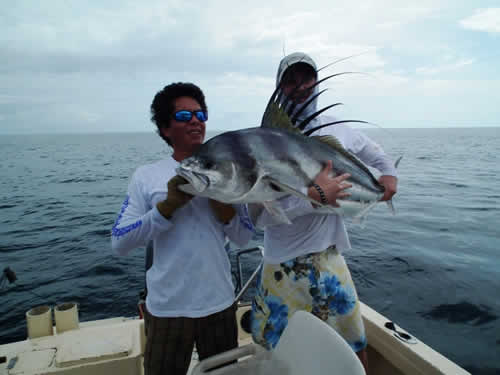 Guanacaste Fishing Boats out of Playa Hermosa
Mr. Bill's second day of fishing, this time he booked a full offshore Papagayo Fishing Charter. He had an espectacular day catching and releasing one sailfish, one dorado and one roosterfish. Definitely a full day of action!! Sept. 13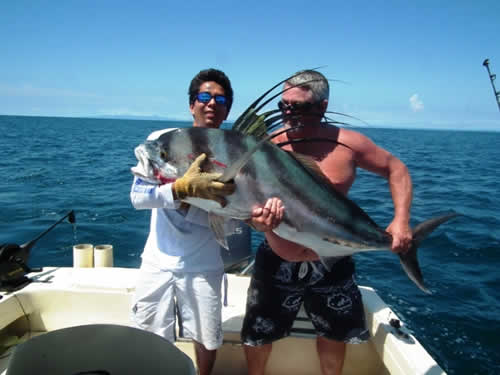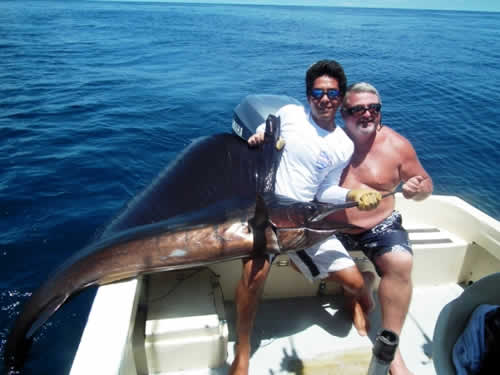 Fishing from Playa Hermosa, Guanacaste
Bahamas took off from Playa Hermosa in Guanacste with Mr. Gregorio in a full inshore Papagayo Fishing charter. Captain Jose reported only 2 jacks caught. Sept. 9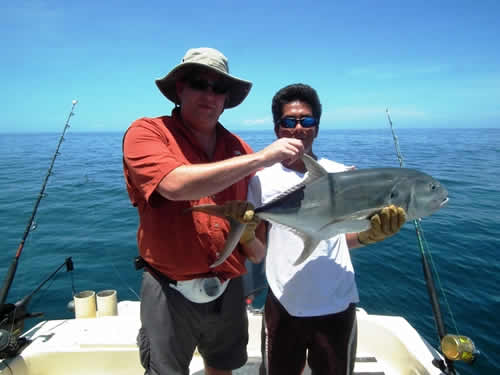 Playa Hermosa Guanacaste Fishing Charter
Playa Hermosa in Guanacaste. Was our departure port for Bahamas boat, which took Mr. Bill and his wife out in a full inshore Papagayo Fishing Charter. They had a wonderfiull day catching and releasing 3 roosterfish. Sept. 8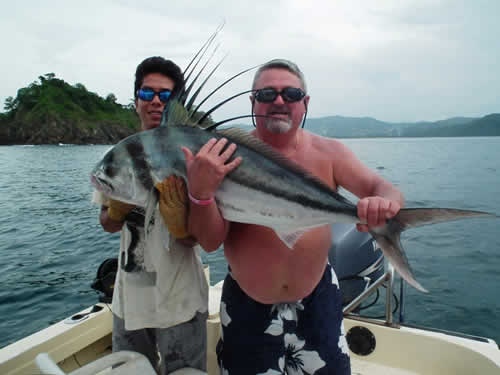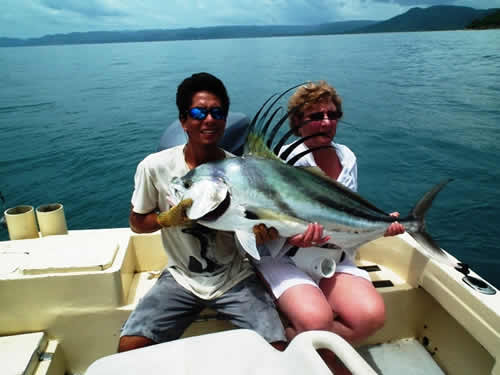 Deep Sea SportFishing in Papagayo Gulf
Papagayo Fishing Gulf, Costa Rica. In a Deep Sea Papagayo Fishing Charter the Harms Group caught and released 4 sailfish and 2 dorados, on board of La Chila-G. Aug. 6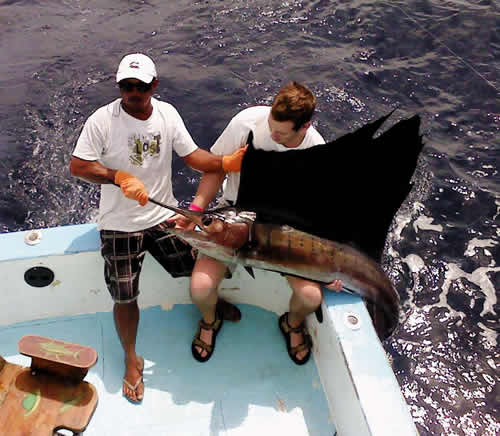 Playa Hermosa SportFishing Charters in Guanacaste
Bill Summer and 5 of his friends booked La Chila-G boat for a Offshore Papagayo Fishing day, these guys stayed at Playa Hermosa, Guanacaste. At 7:30 am on Aug. 5th Arnaldo captain of La Chila picked them up and headed north of Papagayo Fishing Gulf, by the end of the day they reported 7 sailfish landed and released.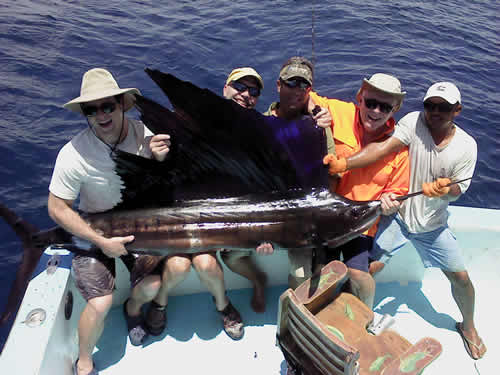 Roosterfishing Charters in Papagayo Fishing Gulf
Dan Shore and 3 more of his friends booked the Banana Nose boat for Half inshore fishing day in the Papagayo Fishing Gulf, they reported 3 nice sized roosterfish. Aug. 02