Papagayo Costa Rica Fishing Boats
Prices and Rates
Guanacaste Fishing will give you more, than you paid for!!!.

Our criteria is based upon prices, equipment, professionalism, booking progress, customers support, and a service providers ability to go the extra step to insure your satisfaction.
Papagayo Costa Rica Billfishing is by far the most popular, Marlin and Sailfish are on the top favorite list. To find these anglers dreams typically will require a full day fishing trip into deep water.
Papagayo Fishing Charters include as follows:
- Rod n reels, lure, tackle. (On board, tackle is 20 to 80 pounds)
- Artificial and/or live bait (if client wants it)
- Snack, fruits, beers, soft drinks, bottled water and sandwiches in full days.
- Ice
- Captain and mate
- Preparation of fish.
- Depending on the Hotel you are staying we charge a small pick-up and drop-off fee, let us know if you need a transfer.
Fishing license is $12.5 per person.
We requiere a 50% deposit to reserve any boat .
Credit cards

PayPal payments

and Western Union transfers
accepted for deposit. The deposit is fully refundable if the charter is canceled due to inclement weather and others conditions. Please take a look at our rrefund policy.
LA MANTA 28 FOOT Shamrock BOOK IT NOW!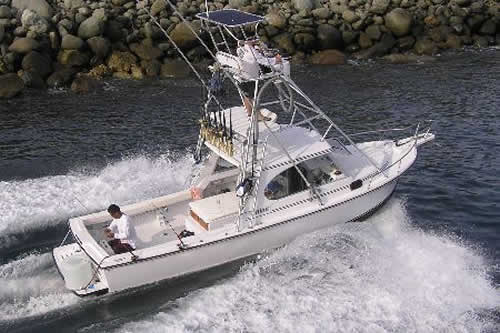 LA MANTA, a 28ft Shamrock that boasts a large spacious cockpit that is perfect for standup or fly. Marine head, Electronics, Livewell, Tuna-tubes, everything you need for the perfect day offshore or in. There is a restroom on board this boat for ladies convenience. Price for up to 3 people per boat
Full day $775 8 hours
˝ day $525 4 hours
---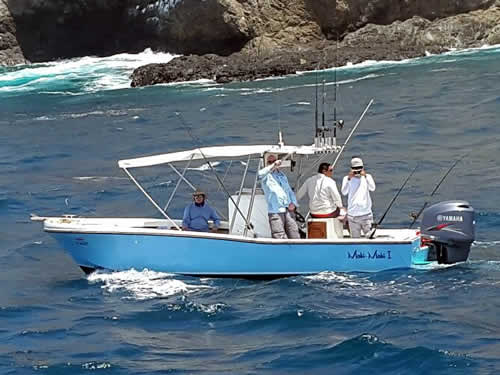 This is a Mako 23ft boat powered by 200hp Yamaha outboard engine. The boat has a toilet in the console box and a head for shade. Include all fishing equipment. Captain: Arnaldo Mendez is one of our best fisherman and one of the luckiest captain.
There is a toilet in the console box on board this boat, for the ladies convenience.
Full day $550 8 hours
˝ day $375 4 hours
---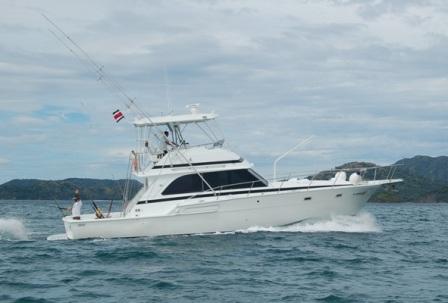 Brindisi, a 50 foot Bertram, power by twin Detroit diesel engines, 28 knots, electronic generator, air conditioning, luxury cabin, complete bathroom, fishing chair, 2 rooms and complete kitchen. All your for 8 or 4 hours.
Full day $2300 8 hours
˝ day $1700 4 hours
---
WAHOO 28 FOOT
BOOK IT NOW!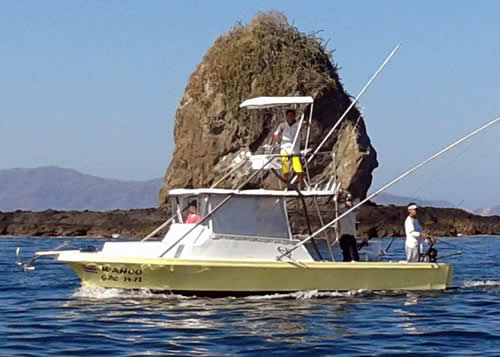 Wahoo is a 28ft boat, has room for up to 4 people. Powered by 350 Caterpillar. Fishing chair and resroom on board, full equipped (GPS, fish finder, Shimano and Penn International tackle). Its captain has more than 25 years of experience in the waters of Papagayo Gulf and Tamarindo region.
Full day $700 8 hours
˝ day (inshore) $500 4 hours
---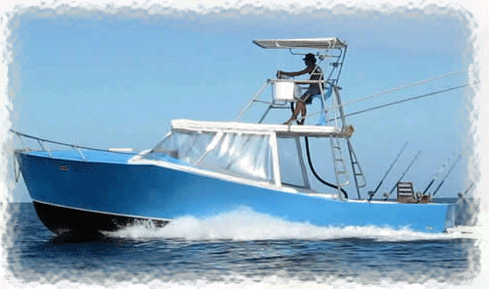 LA CHILA-G a 33ft. boat, big enough for 4 people, it has restroom on board, full equipped (GPS, fish finder, Shimano and International Tackle) its captain is a very experienced sport fisherman and knows the Papagayo Gulf and Tamarindo region by heart. 
Full day $900 8 hours
˝ day $650 4 hours

---
AFISHINADOS is a 31 foot Bertram, full equipped for 4 fishermen, experienced captain in commercial and sport fishing.
 Full day                $1200        8 hours
˝ day (inshore)     $900          4 hours
---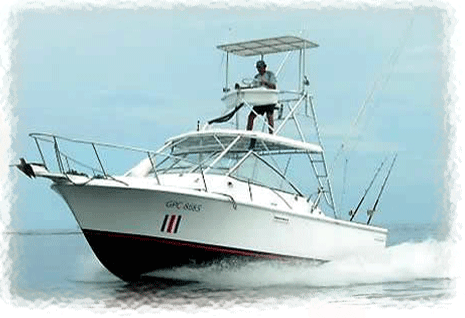 TUNA FISH is a 31ft. boat, it has restroom on board, full equipped, big enough for 4  fishermen, its experienced captain with more than 25 years working in the fishing business, will take you to where the fish are.


Full day                     $975          8 hours
˝ day inshore            $750       4 hours

`
---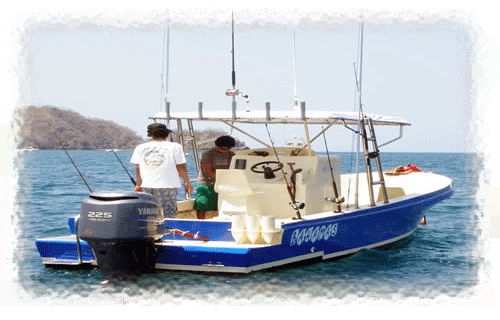 BAHAMAS a 28ft. boat, powered by 225 ph Yamaha, it has restroom on board, full equipped for 3 fishermen, its captain has been fishing these water for several years.

Full day                     $650          8 hours
˝ day inshore         $450          4 hours