Guanacaste Costa Rica Fishing for Wahoo
acanthocybium solandri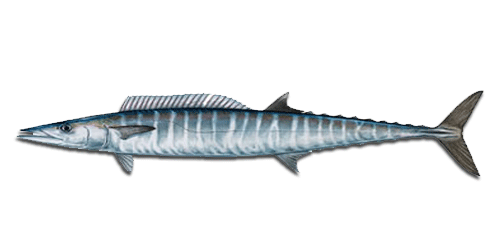 The Papagayo Fishing Gulf Season for Wahoo can be a pleasant surprise anytime of the year. Not many fisherman target Wahoo, they are usually caught while fishing for something else. The Papagayo and Catalinas Islands area, north and south of Playas del Coco consistently hold Wahoo (20 to 60 pounds) all year long.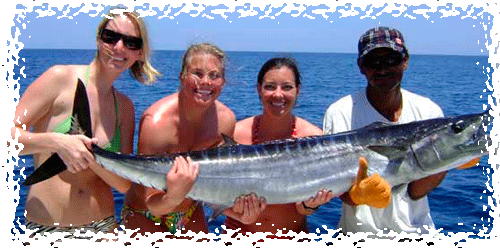 Description: Wahoo are found worldwide in tropical waters and are considered to be one the fastest -- and tastiest -- of game fish. These long, torpedo-shaped fish can grow to weights exceeding 100 pounds and can rip off line at speeds exceeding 60 miles per hour, sometimes taking to the air in the process.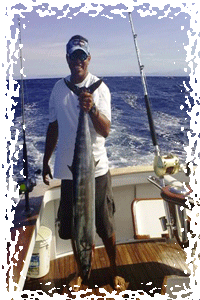 Method: Generally caught trolling near offshore rocks and structure 10-30 miles out. Wahoo will strike lures, spoons and ballyhoo rigs. If you are going to target Wahoo use wire leaders, fish with planers and downriggers and troll twice as fast as you normally would.
Feeding Habits: More often than not, Wahoo are taken while trolling for other species, principally Tuna and Marlin. Many never make it to the boat, due to their sharp teeth. Such disappointments can be avoided by using wire leaders. Wahoo snack upon any small baitfish, sardines, flying fish, mackerel and even little tuna. They also like squid. Not much gets away from these fish when they're hungry.
We release for tomorrow!