Papagayo Costa Rica Fishing Report
June
Costa Rica Fishing is known as some of the best sportfishing around the world, with giant marlin that can trip a reel in a loud screeching flash, tuna that can dive hundred of feet straight down and sailfish so beautifully colorful that you will see why Costa Rica is said to have the bes sportfishing.
Enjoy the report and read about the places where fish normally are in the North Pacific Coast of Costa Rica.

Deep Sea Fishing out of Riu Guanacaste Fishing
Playa Matapalo, Papagayo Fishing Gulf. Was our departure port for Larry Riggan and 2 more anglers staying at Riu Guanacaste Hotel, these guys had a perfect day catching and releasing 4 sailfish and 1 black marlin . June 15.
---
Hiton Papagayo All-Inclusive Fishing Resort
Playa Arenilla at Hilton Papagayo Fishing Hotel. Was our departure port for Tracy Cyree and husband, they booked a Papagayo Fishing Charter which took them were the fish are. Along the day they landed a 350 pounds black marlin a second one (this one smaller), also they caught and released 3 sailfish, 1 dorado and 1 yellowfin tuna. June 14.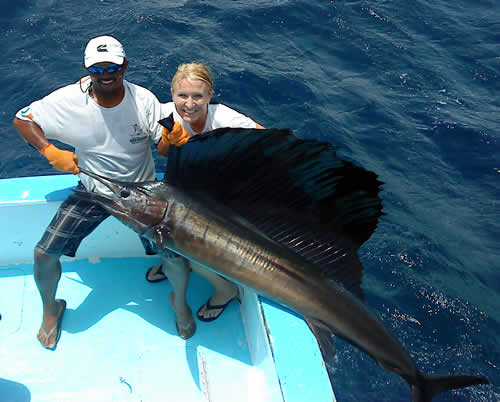 Playa Blanca at the Four Seasons, Papagayo Gulf, Costa Rica. Was our departure port for David Mendel and his wife staying at the Four Season Resort in the Papagayo Fishing Gulf. Gimbo captain of Albacora vessel took them out North of the Papagayo Gulf, relasing by the end of the day 1 black marin and 1 sailfish. June 14.
Back Fishing Report 2011