Guanacaste Fishing Report
August
Costa Rica Fishing is known as some of the best sportfishing around the world, with giant marlin that can trip a reel in a loud screeching flash, tuna that can dive hundred of feet straight down and sailfish so beautifully colorful that you will see why Costa Rica is said to have the bes sportfishing.
Enjoy the report and read about the places where fish normally are in the North Pacific Coast of Costa Rica.

Deep Sea SportFishing in Papagayo Gulf
Papagayo Fishing Gulf, Costa Rica. In a Deep Sea Papagayo Fishing Charter the Harms Group caught and released 4 sailfish and 2 dorados, on board of La Chila-G. Aug. 6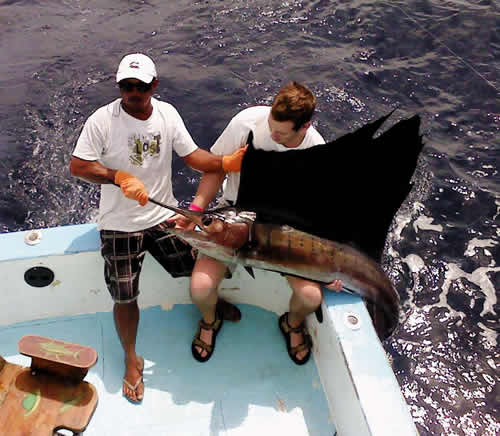 ---
Playa Hermosa SportFishing Charters in Guanacaste
Bill Summer and 5 of his friends booked La Chila-G boat for a Offshore Papagayo Fishing day, these guys stayed at Playa Hermosa, Guanacaste. At 7:30 am on Aug. 5th Arnaldo captain of La Chila picked them up and headed north of Papagayo Fishing Gulf, by the end of the day they reported 7 sailfish landed and released.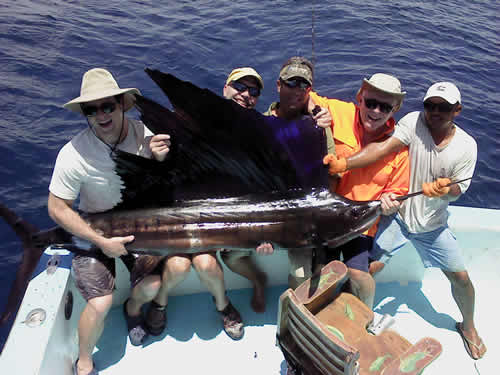 ---
Sportfishing Charters out of Papagayo Fishing Gulf
Costa Smeralda Beach, Papagayo Gulf. Was our departure port for Van Web and his wife, staying at Occidental Grand Papagayo All-inclusive Resort. Odir captain of Cormoran vessel took them south of Papagayo SportFishing Gulf out of Catalinas Islands, Costa Rica. Mr. and Mrs. Web had a busy day landing and releasing 7 sailfish. Aug. 4
---
Roosterfishing Charters in Papagayo Fishing Gulf
Dan Shore and 3 more of his friends booked the Banana Nose boat for Half inshore fishing day in the Papagayo Fishing Gulf, they reported 3 nice sized roosterfish. Aug. 02