Guanacaste Fishing Chaters
Costa Rica has some of the best
SportFishing
in the world. Guanacaste in the Pacific Costa of Costa Rica has incredible fishing for
Sailfish
,
Marlin
,
Dorado
,
YellowFin Tuna
,
Wahoo
,
Roosterfish
,
Snapper
, and more. Why choose us to help you plan your
Guanacaste Fishing Charters
?
We were born and lived in the same fishing area all our lives, we know fishing business by heart.
FishingGuanacaste
has a fleet of boats in the
Papagayo Gulf
area and we offer some specialty trips like inshore / offshore / bottom fishing, sunset tours and snorkeling tours.
Guanacaste Fishing Charters
represents a number of friends and family members that own and operate charter boats in the North
Pacific Coast of Costa Rica
, we can set you up with the best captains in each area.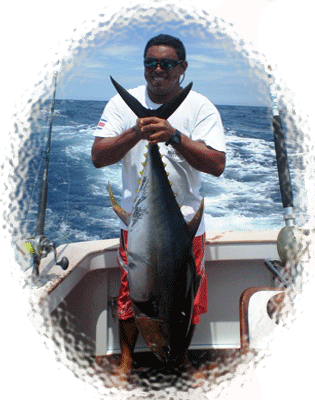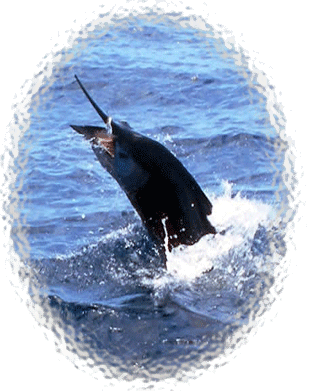 Papagayo Costa Rica
The Gulf of Papagayo Costa Rica, is where you will find the best blue water fishing anywhere in the North Pacific Coast of Costa Rica.
Guanacaste Fishing Charters
offers anglers the fishing of their dreams. Catch marlin, sails, dorado, wahoo, yellow fin tuna, roosterfish and many other species year round. Read our
daily Fishing Report
. We know the hottest areas for fishing in the Papagayo Gulf Fishing Charters and the best time of year.
We'll hook you up with the Guanacaste's top fishing charter captains, they're the guys who know how to catch fish and treat our clients right (they know commercial fishing, sport fishing, inshore/offshore fishing, they know everything about fishing).
Give us a call or send us an
e-mail
if you have any questions about
charter boats
or if you need a "live"
fishing report
follow US in FaceBook.
Trust a local, trust an expert!!.

Flamingo Beach, Fishing Charter
Cinthya and her friend, staying at Flamingo Beach booked a half day Guanacaste Fishing Charter, they had a stellar day landing a sailfish and kept 2 mahi mahis. June, 13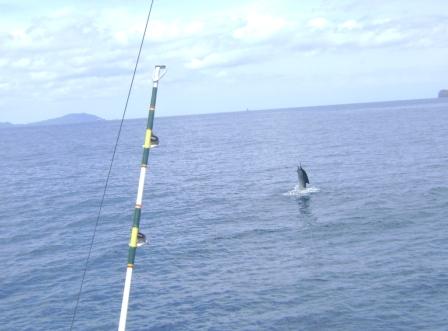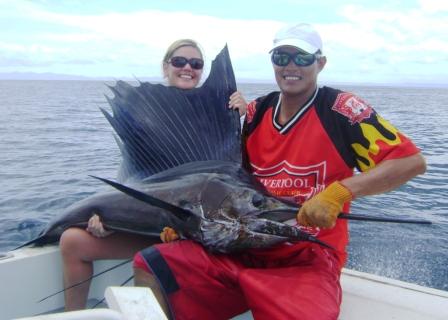 Inshore Fishing from Four Seasons Papagayo
was departure port for Sea Snake, who took fishing a couple for half a day, they caught a sailfish and 1 dorado. July, 11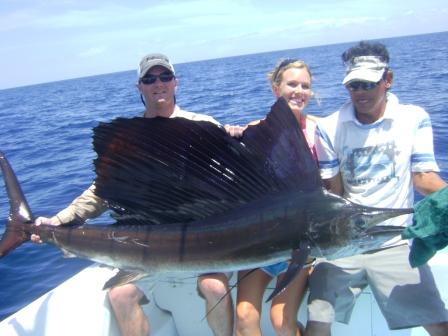 Inshore Fishing Charter out of Riu Guanacaste
Three anglers staying at this hotel booked a Offshore Guanacaste Fishing Charter and caught this nice sized roosterfish. July, 09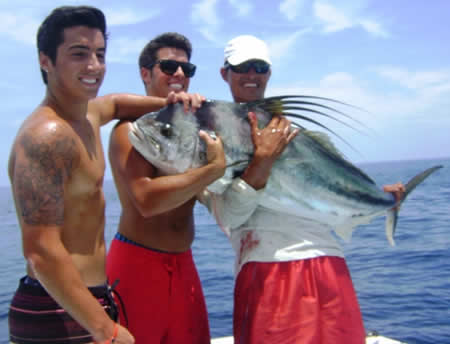 Riu Guanacaste Costa Rica, Inshore Fishing Charter
Playas del Coco was again our departure port, a couple booked half Papagayo Inshore Fishing Charter and they caught a yellowfin tuna and 5 dorados. July, 07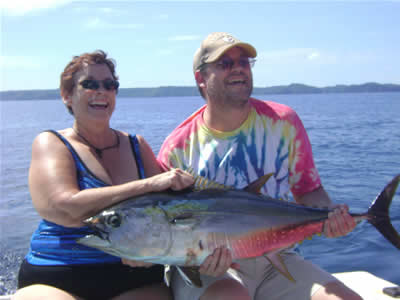 Riu Guanacaste, Deep Sea Fishing Charters out of Matapalo
Nick and his father staying at Riu Guanacaste Hotel, went out in a Papagayo Deep Sea Fishing Charter, Nick's father dream was to catch a fish as big as Nick, but he wanted Nick to landed and guess what?? Nick did it, he landed a sail fish a little bigger than him and look at him, happiest boy in all Guanacaste. June, 30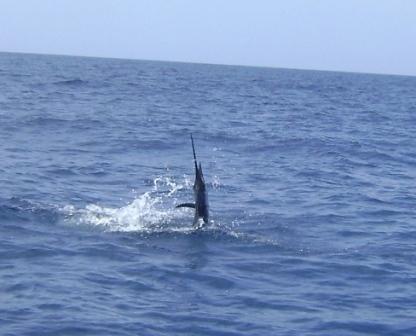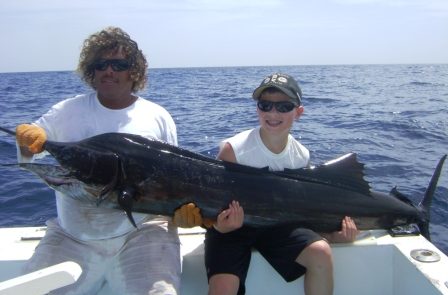 Playas del Coco Fishing Trips, Costa Rica
Playas del Coco was our departure port for Laura Cintron and her 4 friends, they booked La Chila G, for a Papagayo Dep Sea Fishing day and had a BLAST, releasing 10 sailfish and kept 3 mahi mahis. June, 26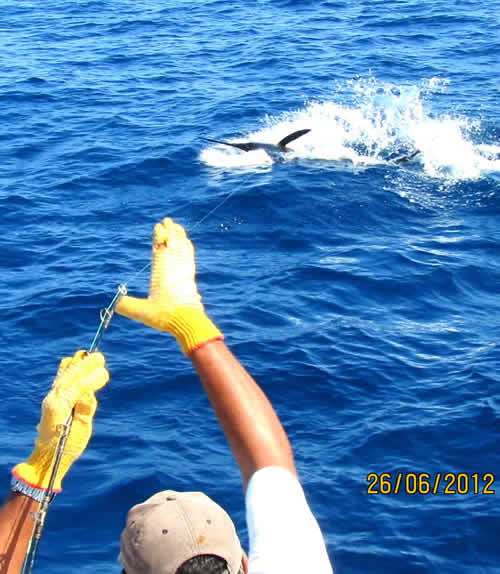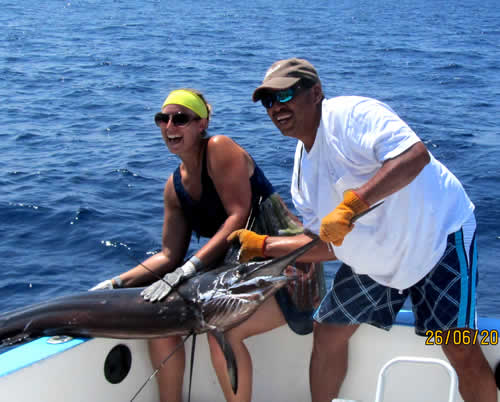 Hilton Papagayo, Salt Water Fishing Charters
Mr. Worthington, staying at Hilton Papagayo booked Wahoo boat, they headed north Papagayo Gulf and caught some nice yellowfin tunas. June, 25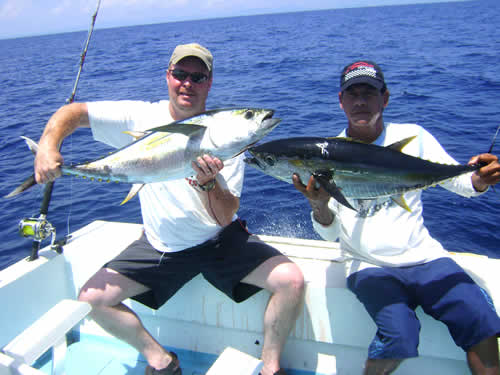 Flamingo Beach Costa Rica, Guanacaste Ishore Fishing Charter
Fishing out of Flamingo Beach was Drew and his friend on board of Albatres in a half Papagayo Inshore Fishing day. They caught and released the nice looking roosterfish in the picture and kept 2 mahi mahis, for themselves. June, 21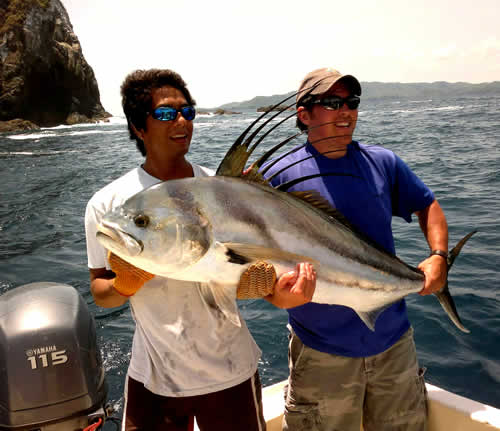 Fishing out of Four Seasons Papagayo
Mr. and Mrs. Huntsucker, staying at the Four Seasons Papagayo Hotel, did 4 days of fishing. First day, June 18th they went out on board of Sea Snake and released 4 roosterfish. On June 19th they went out on board of Tuna Fish boat, Mrs. Huntsucker landed 2 sailfish and caught 3 mahimahis, on June 20th they went out again in an inshore Papagayo Charter on board of Sea Snake and caught and released 10 more roosterfish, one of them was about 60 pounds. June 22nd, was theirs last fishing day, they went out on the Tuna Fish, but had little action. At the end, this couple had a great Papagayo Fishing Experience. GOOOOOD for them!!!. June 18,19,20,22.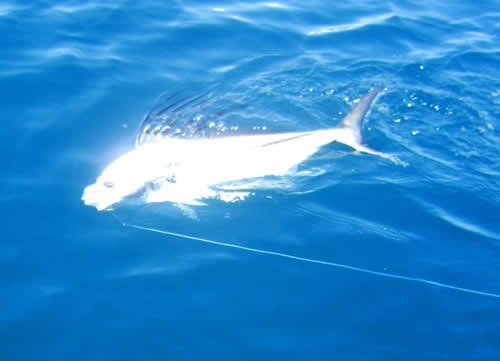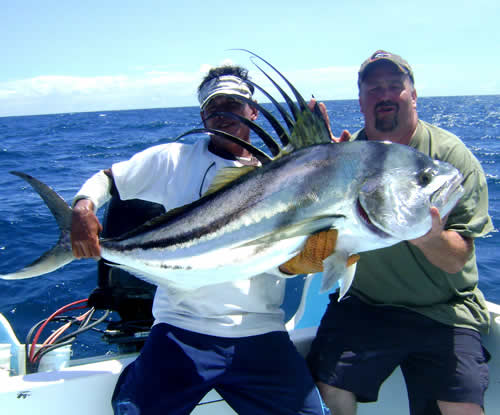 Flamingo Beach, Guanacaste Fishing Charter
Fishing out of Flamingo Beach a family had a spectacular day, the boy landed a sailfish, they were fishing on board of Wahoo, one of Guanacaste Fishing fleet. June, 10